Faith Formation
This information is being revised.
News & Announcements
Of Interest
Holy Week Schedule and Three Hours Devotion Information
Click here to view a brochure that outlines our Holy Week schedule and details the Three Hours Devotion on Good Friday.
LITURGIES OF THE TRIDUUM
HOLY THURSDAY, APRIL 17th
Mass of the Lord's Supper
7:00 PM (doors open at 6:30 PM)
Rev. William J. Bergen, S.J., Presider
GOOD FRIDAY, APRIL 18th
Celebration of the Lord's Passion
Liturgy at 7:00 PM (doors open at 6:30 PM)
Rev. Ugo Nacciarone, S.J., Presider
HOLY SATURDAY, APRIL 19th
Easter Vigil
8:15 PM (doors open at 7:45 PM)
Rev. George M. Witt, S.J., Presider
For reasons of safety, once the Vigil begins, latecomers will not be admitted into the church until the end of the "Exultet." Please be on time.
EASTER SUNDAY, APRIL 20th
Please note the change in Mass Times:
7:30 AM – Organ/Cantor
9:00 AM – Organ/Cantor
10:30 AM – Organ/Cantor/Choirs/Brass
10:30 AM (Wallace Hall Family Mass) – Piano/Choirs/Omega Dance Company
Noon (Solemn) – Organ/Cantor/Choirs/Brass
*There will be no 7:30 PM Mass on Easter Sunday*
The Parish House will close at 4:00 PM on Easter Sunday.

.

here to view a flyer for this event.

.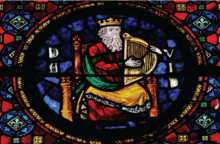 Psalms of David
Schütz, Gabrieli, Monteverdi, and Rossi
Wednesday, May 7th
7:00 PM
The lineage of Western sacred music begins with the Psalms: timeless songs of faith composed during the last millennium before the common era. These songs of love, songs of repentance, and songs of praise reach full expressive power in the hands of early Baroque masters Schütz, Gabrieli, Monteverdi and Rossi.
Multiple choirs and instrumental ensembles will fill the space with majesty.
For more information or to purchase tickets, visit http://www.smssconcerts.org
.

Update on Making All Things New: The Archdiocesan Pastoral Initiative
Over the past two months, the Core Team for St. Ignatius Loyola has been meeting with our Cluster parishes (Holy Agony, St. Francis de Sales, and St. Thomas More). During those meetings, the Teams have shared parish self-assessments, discussed the current reality, and have begun to explore how to build a stronger collective community through collaboration.
By bringing together the strengths and weaknesses of each of the four parishes, we believe we can achieve this goal while we reach out to the forgotten and underserved of the "periphery," as Pope Francis has invited us to do.
Click here to read a detailed overview of some of the key thoughts that have emerged during this ongoing dialogue.